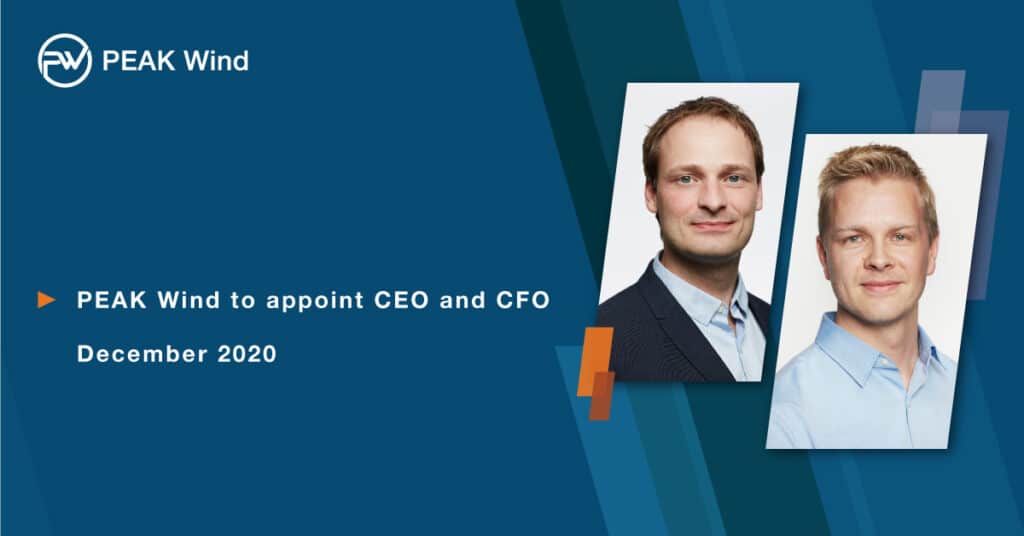 PEAK Wind is pleased to announce that Michael Andersen, Co-Founder of PEAK Wind, has been appointed as CEO with immediate effect. Simultaneously, Bo Andersen has been appointed CFO.
With formalized CEO- and CFO-appointments, PEAK Wind takes a key step in the organizational development required in supporting the continued business growth. The new CEO, Michael Andersen, is one of the three founding partners and has recently returned to Denmark following a 2-year expatriation in Taiwan.
Lars Nagstrup Conradsen, Co-Founder of PEAK Wind, says: "With the assignment of Michael into a full-time and full-bodied CEO role, PEAK Wind is stepping into its next stage of development."
Adding his thoughts on his new role as CEO, Michael Andersen adds: "Over the last three years, we have established a unique PEAK Wind DNA that we carefully need to retain while growing our team and geographical footprint. At the same time, we retain the ability to provide the best services to our clients."
Before this appointment, Andersen provided commercial and financial advisory to PEAK Wind's clients. Bringing 13 years of experience in offshore wind, he has previously been responsible for numerous managerial roles in Ørsted, including Asset Management, Project Financial Management, and Cost of Energy Roadmap.
"Formalizing the appointment of Michael also means that Lars and I can dedicate even more time to our growing business areas benefitting our team and the quality of our services," says Co-Founder Denis Nørnberg Andersen
To lead PEAK Wind's internal corporate functions, PEAK Wind is pleased to announce that Bo Andersen has been promoted into the CFO-role, responsible for the global Corporate Finance and People Development-functions.
"For the last two years, Bo has been part of PEAK Wind's journey as our Corporate Finance Director. With the many strong results Bo continuously delivers, it is only natural and fully deserved that he now is promoted into the CFO-role," says CEO and Co-founder Michael Andersen.
Before joining PEAK Wind, Bo Andersen has obtained a solid finance background with experience from companies like Terma, Ørsted, and Deloitte.
From start-up to global leading offshore wind consultancy in 3 years
PEAK Wind has experienced continuous steep growth since its establishment back in 2017 and is now operating across five countries, with more than 50 employees. Established as a leading global operations & asset management advisor and service provider, the outlook for PEAK Wind is promising, with a wide range of opportunities and continued growth across current and new markets.
The Executive Management in PEAK Wind remains to be the three founders, Denis Andersen (Co-founder), Lars Conradsen (Co-founder), Michael Andersen (Co-founder and CEO), and Bo Andersen (CFO).