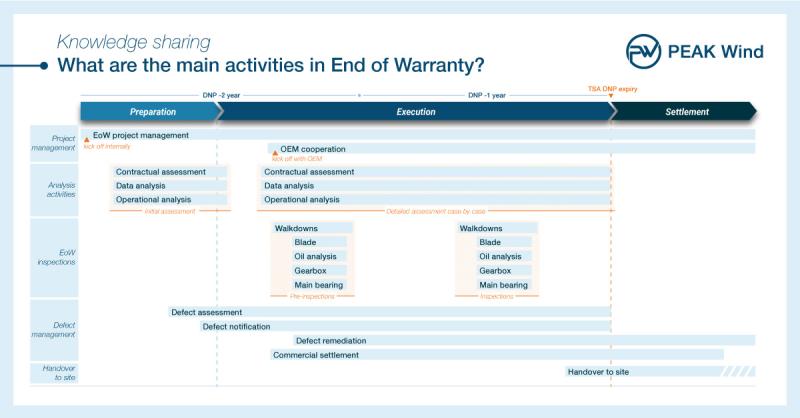 Well-timed TSA End of Warranty (EoW) activities are key to a successful EoW project. But what are the main activities you should be planning for in your EoW project? How to involve and cooperate with the OEM? What integrity areas and possible defects to focus on to mitigate the overall asset risk? These are some of the key questions operators must ask themselves when approaching warranty expiry.
Managing defects well prior to TSA warranty expiry have many beneficiaries, enabling to maximizing the value of TSA contract, optimizing the inspection scope by carrying out pre-inspections, giving the OEM sufficient time to plan the remediation within active service contract and Availability Warranty, and many more.
The figure below presents main EoW project workstreams which must be adjusted to the overall EoW & post-warranty strategy for your site.
Is your wind farm going to face warranty expiry in within the next two years? We can help you leverage the full value of your TSA – contact Lars Conradsen & Graham Henderson to discuss your project.