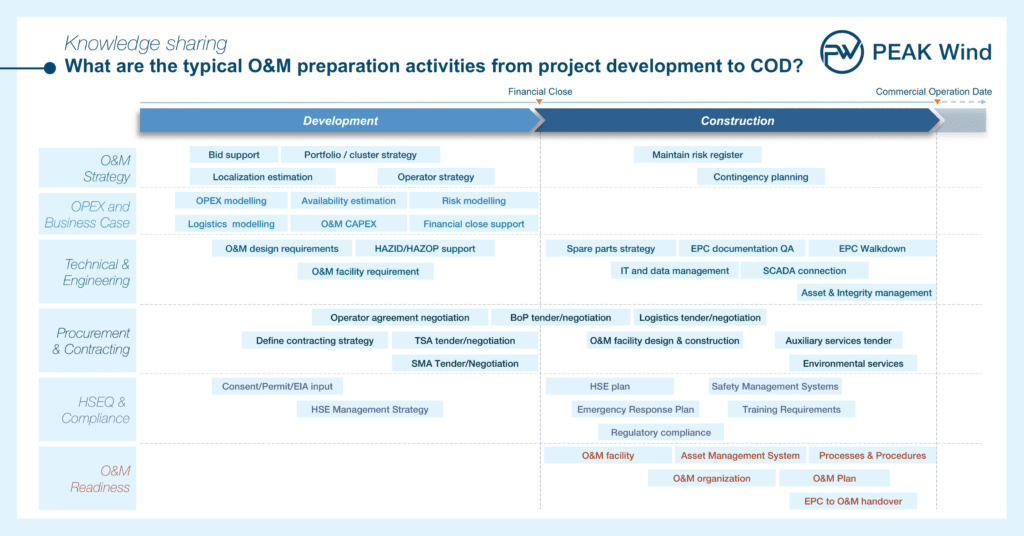 Selecting and implementing the optimal O&M strategy during development and construction phases is a key lever for asset owners that want to find the optimal risk-return profile on their investments.
How do you ensure a proper delivery of the operations set-up program within the project's milestones? How do you establish an efficient project organisation, ensure an optimal outcome from key procurement agreements, and plan for operations handover from day 1?
To support you addressing these challenges we have developed an overview of the key O&M activities across 6 categories that should be carefully managed during your preparation for operations phase.
PEAK Wind has delivered O&M preparation services globally, for a 800MW+ project in North America, a 600MW+ project in Asia and 400MW+ in Europe delivering synergized full lifecycle OPEX modelling, TSA negotiation and site logistics setup. Do you need help in any of the above categories? Contact Lars Conradsen and Kristoffer Lundbak Eriksen to discuss your project.