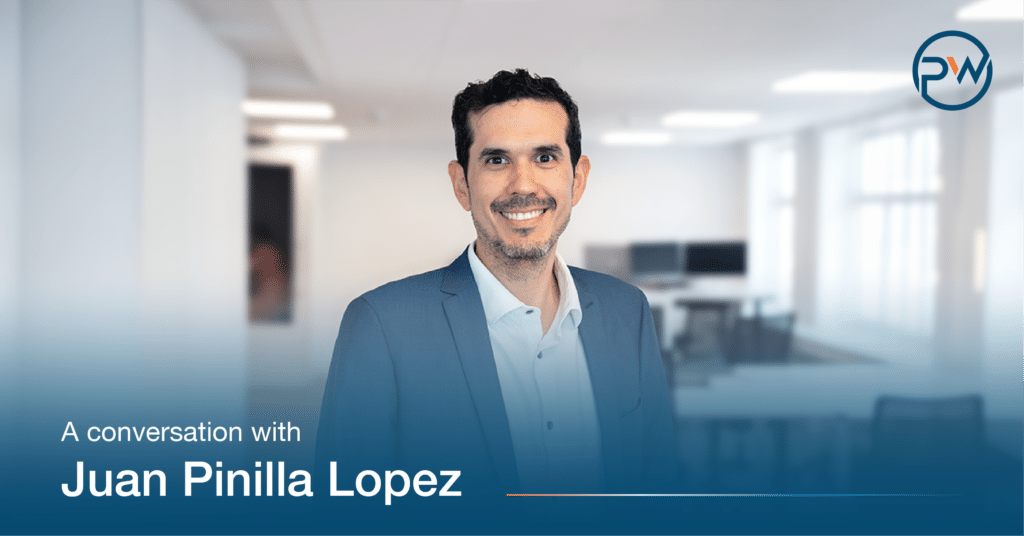 The renewable energy industry has expanded tremendously during the last decade, with more projects being developed and more countries advancing in their green transition every year.
Investments in renewable energy have grown from 239b USD in 2013 to 499b USD in 2022 (source: IRENA) with wind and solar energy being the primary chosen technologies.
While the growth of renewables has been continuously attracting new talent to the industry, many experts have been driving the energy transition and have led it to where it is today.
One of these experts is Juan Pinilla Lopez, Country Director Korea and Chief Consultant at PEAK Wind. Juan celebrated his 5th anniversary at PEAK Wind last August, and he had many reflections not only about his personal growth but also about the industry as a whole.
We caught up with Juan to hear more about his journey, what keeps him excited about offshore wind, and to take the temperature of the industry, especially in the rapidly developing market of Korea.
Hi Juan, first of all, congratulations on your 5th anniversary at PEAK Wind. How do you reflect on this amazing milestone?
It has been an incredible ride. Throughout this time, I have been involved in various activities including the development of the first commercial offshore wind farm in the USA, which is now under construction.
I also led PEAK Wind's market entry and establishment in Spain while working on the development of several onshore projects.
And now I am here in Korea, as a Country Director and Chief Consultant.
You've been in the industry for more than 12 years. What is something that still excites you about working with renewable energy?
Renewable energy is an industry that creates value and provides benefits in a multidimensional way. It provides energy independence and security to the country while limiting human-created emissions into the planet.
Not only is it expected to create monetary value for the project owners, but it also benefits the local economy by opening well-paid job positions throughout the whole value chain.
Offshore wind projects, particularly in new markets such as Korea, have unique challenges and opportunities, and specific project solutions must be developed and implemented. No two projects are ever the same.
How has PEAK Wind changed since you've joined?
I was employee no.15 globally and I joined a small office in Copenhagen in 2018. Now our office in Seoul is almost as big as the Copenhagen one was back then.
We've undergone tremendous growth and now we support developers and investors on different technologies, from offshore wind to Power-to-X. Furthermore, we have now established several processes and systems to support the delivery of our services as well as the onboarding of new colleagues across the globe.
You recently moved to Korea to establish our office in Seoul. How has that experience been so far?
First of all, Korea is the 5th country where I have moved to, but this one has been quite special. It is the first time I have moved to APAC and the first time I have relocated with my wife and daughter, which brought some practical challenges, particularly during the first months.
We established the company long before I moved here. That said, being in Seoul has given me the opportunity to further understand the market, identify key drivers and challenges and recognize how business is done in Korea.
With this deeper insight into the local reality, I can establish a closer relationship with clients and colleagues, be the interface between our clients in Korea and our global footprint and deliver tailored solutions.
How do you see the offshore wind industry in Korea evolving in the near future?
The Korean offshore wind market is expected to become the biggest market in the whole APAC region (after China) and is set to deliver significant growth to renewables in the country's energy mix.
The country has ambitious targets and Korea is expected to lead the path globally for large-scale floating projects. This will be supported by the well-established local industrial base, which is already very active in offshore wind, from cables, foundations, towers, and shipyards to HV equipment suppliers. Additionally, several WTG OEMs have announced plans to expand their manufacturing footprint into the country.
Operations and Maintenance (O&M) will create several business opportunities, although transfer of knowledge and implementation of best industry practices are required to operate the large offshore wind projects currently under development.
O&M has already become an important strategic area for several companies in Korea in terms of maintenance, logistics, and power generation. Korea has proven its ability to learn rapidly, especially in the heavy industry and technology sectors.
What are you most looking forward to in the next 5 years?
I see myself in the renewable sector, even 10 years from now. I would be very much looking forward to full integration of technologies in renewable projects, i.e., not only offshore wind projects or solar projects but combining different technologies on a single project.
Furthermore, I would love to see a greater level of cooperation between governments, developers, supply chains, operators, and local communities to facilitate the development, construction and operations of projects quicker, cheaper and in a safer manner, resulting in larger benefits to all.
Learn more about what it's like to be part of the PEAK Wind team