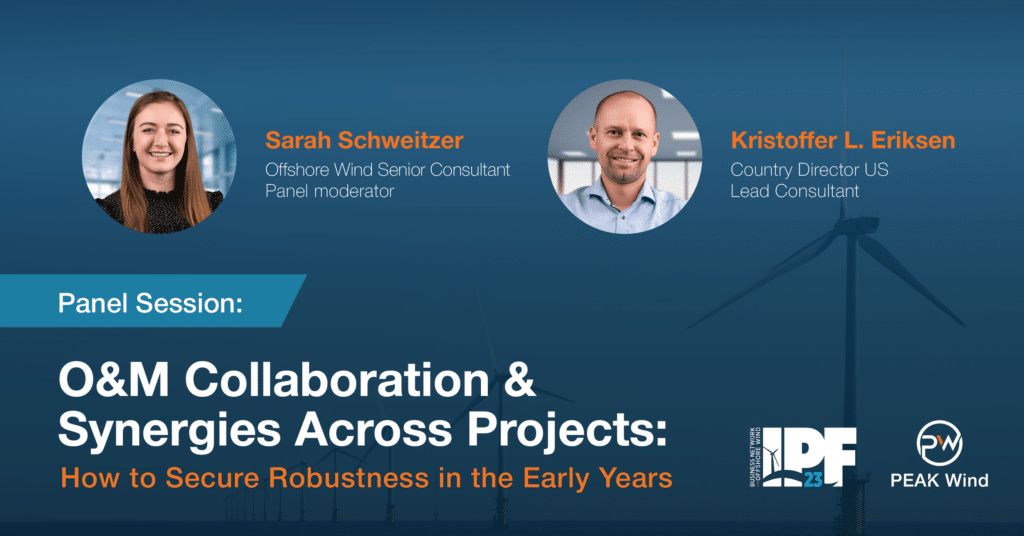 PEAK Wind will be present at the 2023 IPF Conference, one of the largest offshore wind events in the Americas. Hosted by the Business Network for Offshore Wind, the 2023 edition focuses on bringing the offshore wind industry together to address critical matters such as climate issues and energy security. One of the main topics is building out the offshore wind market and it's supply chain.

O&M Collaboration & Synergies Across Projects: How to Secure Robustness in the Early Years
With the first commercial scale offshore wind farm project yet to be built in the US, now is the time to look at implementing cost saving initiatives for the O&M phase of the projects.
PEAK Wind will lead a panel discussion on O&M collaboration and potential benefits of SOV sharing across offshore wind farm projects on an industry level. It will dive into viable strategies for establishing shared logistics strategies and how they can accelerate the development of large-scale offshore wind project and help reach the 30 GW offshore wind by 2030 goal.
The panel will be joined by:
Sarah Schweitzer, panel moderator, Offshore Wind Senior Consultant at PEAK Wind
Kristoffer Erisken, Country Director US, PEAK Wind
Mikkel Nielsen, Principal Consultant, Clarksons Renewables
Mary Coyne, Commercial Leader, GE Renewable Energy
Mikkel Maehlisen, VP of Operations Region Americas, Ørsted
The panel speakers will discuss the challenges and opportunities of SOV sharing from a developer, OEM, and operator point of view. The will also share multiple perspectives on the commercial and operational implications SOV sharing will have on upcoming large-scale offshore projects and many more.
The panel session will take place on the March 29 in Room 345 at 2:30 PM.
Applying Lessons Learned in Europe: How to Scale Local US Workforce to Achieve OSW Project Delivery
One of the key challenges facing the US offshore wind industry is figuring out how to leverage the European experience while engaging a fledgling American workforce.
Annika Mathiasson will join a panel session focusing on growth in multiple companies driven by a
single project. In this case, Vineyard Wind – currently on track to become the first commercial-scale offshore windfarm in the United States, will serve as real-life example.
The panel will be joined by:
Annika Mathiasson, Deputy Country Director US, PEAK Wind
Rachel Pachter, Chief Development Officer, Vineyard Wind
Nick Wordsworth, CEO & Principal Consultant, Offshore Construction Associates
Dennis Hindhede, Associate Director & Chief Consultant, Wood Thilsted
Matthew Palmer, panel moderator, President WT USA, Wood Thilsted
The panellists will share how their organizations faced growth obstacles across the Atlantic on the scale needed by the project. The speakers will share practical experience, as much of the growth has already been achieved to bring the project to the fabrication and installation phase.
The panel session will take place on March 29 in Room 347 at 4:15 PM.