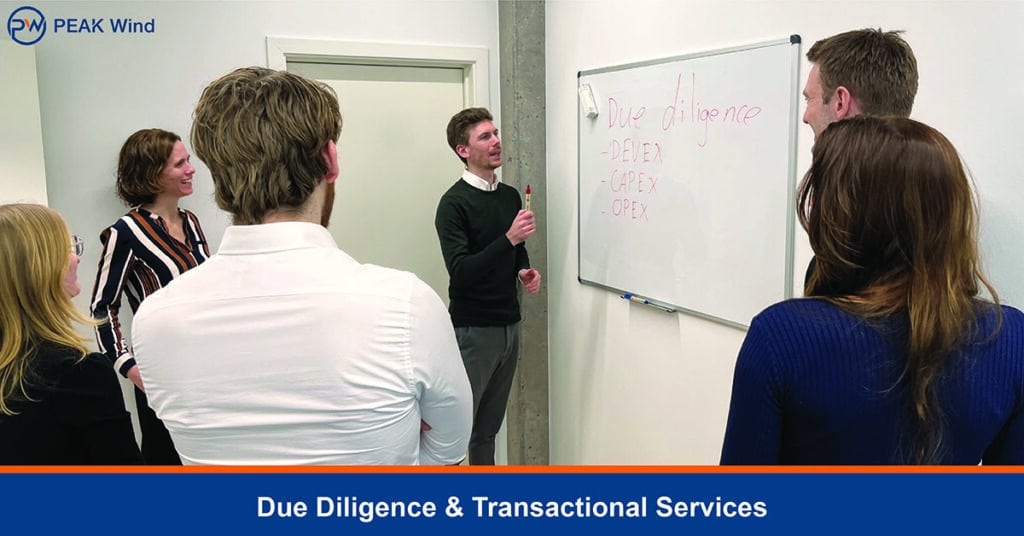 Aarhus, Denmark, 11 January, 2022
PEAK Wind continues to develop its business and expands its service offerings within the renewable industry with the formal establishment of its new practice group: "Due Diligence and Transactional Services".
As the consolidation and investment appetite within the energy sector continue, PEAK Wind has experienced and expects a continuing increased interest in due diligence and transactional services. Thus, the company sees a great opportunity to utilize its broad range of specialized competencies and market insights within operations and asset management to establish itself as a renowned and trusted advisor, offering commercial and technical due diligence as well as valuations of transactions within the renewable sector.
The Due Diligence and Transactional Services practice group will be headed by Alexander Stegelmann who has been recruited internally in PEAK Wind, where he has been employed in various positions since his arrival in early 2020.
"Over the past year PEAK Wind has been involved in several due diligence assignments from both a technical and commercial perspective which encouraged PEAK Wind to formally set up a practice group to actively pursue these assignments and enhance its market position," says Alexander Stegelmann, Head of the Due Diligence and Transactional Services practice group. "The ambition is to provide services within commercial and technical topics as well as valuations of all renewable asset classes. Examples of such services include assessments of contractual terms and conditions, operational budgets, asset condition and lifetime assessments within onshore/offshore wind and solar energy," he continues.
Noteworthy PEAK Wind due diligence contributions since 2021:
PEAK Wind assisted Copenhagen Infrastructure Partners with technical support in its divestment of its 35% equity share in the project Beatrice Offshore Wind Farm
PEAK Wind supported Arcus Infrastructure Partners with technical and commercial due diligence in relation to their acquisition of a majority stake of the Danish company Momentum Group A/S
About PEAK Wind
PEAK Wind was founded by three former colleagues of the offshore wind industry, with the purpose to combine technical, financial, and commercial expertise within Renewables Operations & Asset Management, aiming to provide market-leading services and advisory to wind farm owners and investors globally. More than 90 specialized employees warrant a unique track record and experience specifically within the offshore wind sector, making PEAK Wind one of the most experienced offshore wind O&AM (Operations & Asset Management) consultancies and independent operators globally. PEAK Wind is continuing their international growth with consultants based in Denmark, Germany, Spain, the U.S., the UK and Taiwan, supporting and servicing domestic and foreign developers worldwide.
For more details about our service offerings, capabilities, and track record within due diligence and transactional services, please contact:
Alexander Stegelmann
Head of Due Diligence and Transactional Services
Mail: ast@peak-wind.com
Tel: +45 23 96 2 538