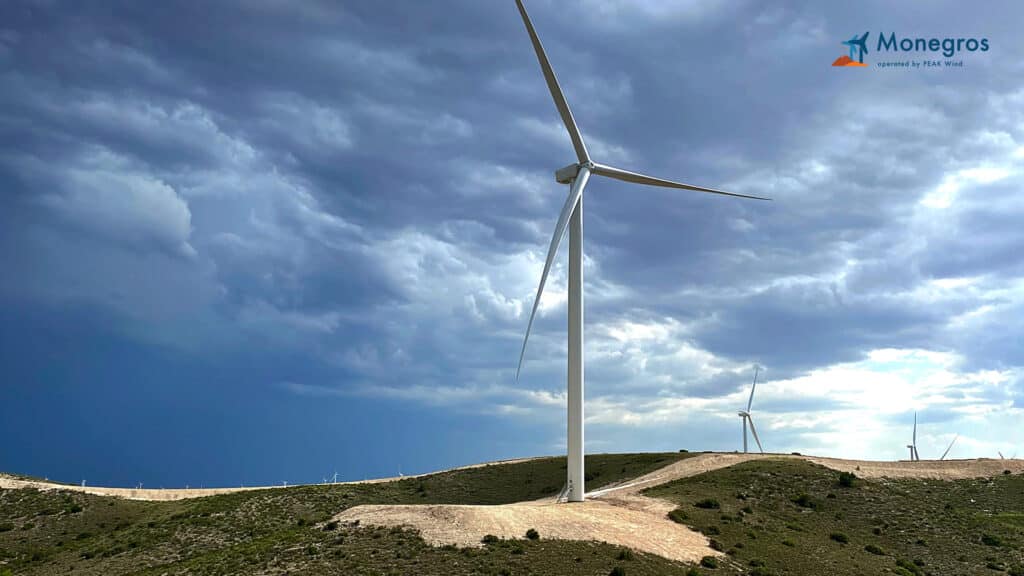 PEAK Wind will be providing technical, operational, commercial, and financial asset management services for 5 years with extension options, throughout the operational phase of Monegros onshore wind farms.
PEAK Wind has secured the full scope asset management for the Monegros onshore wind portfolio. Since taking the first of the 12 wind farms into operations in 2020, PEAK Wind has been the operator on behalf of the asset owners Copenhagen Infrastructure Partners (CIP). In end of June 2021, the last turbines are expected to be fully taken into operations.
"We have been working with PEAK Wind on numerous wind projects, where they have been demonstrating a great ability in planning, managing and operating our assets. We are confident that Monegros will continuously deliver reliable and clean wind energy to the Spanish consumers in the future," says Christian Skakkebæk, Senior Partner at CIP.
The scope of the agreement includes the management of HSE, service providers, financial management, asset integrity, energy management, environmental & waste management, and performance reporting, among others, throughout the entire operational phase of the windfarm. Furthermore, PEAK Wind also supported CIP in the divestment of a 49% stake in the Monegros onshore wind portfolio to a fund managed by Arjun Infrastructure Partners, announced earlier this year.
"PEAK Wind has strong global and local teams that have deep experience with managing and executing on the operational plan of wind farms. Therefore, we are well-equipped to deliver on the asset owners' business case with high degree of certainty and predictability," states Co-Founder & Head of Asset Management of PEAK Wind, Denis Nørnberg Andersen.
PEAK Wind has experienced continuous steep growth since 2017. Established as a leading global operations & asset management advisor and service provider, PEAK Wind has taken another major step into the asset management space of renewable generation assets with a particular focus on large scale onshore and offshore projects.
"Not only is our team of experts are extremely attached to the region of Aragón, with three Aragonese colleagues. We are also widely experienced in the wind energy market and wind farm services. Therefore, we will of course work closely with the local community and government authorities to ensure that we contribute to a thriving and environmentally sustainable region," says Alejandro Labarga, Project Director at PEAK Wind.
The Monegros portfolio consists of 12 onshore wind farms with a total installed capacity of 487 MW located in Aragon, Spain. Monegros is part of Copenhagen Infrastructure III K/S (CI-III), a EUR 3.5 billion energy infrastructure fund managed by CIP. When in full operation, the portfolio is expected to generate approximately 1.5 TWh of renewable power annually, sufficient to meet the demand of approx. 430,000 Spanish households.
About PEAK Wind
PEAK Wind is a global consultancy and asset management company, combining technical, financial, and commercial expertise to deliver best-in-class advisory, and Asset & Operations Management services to investors of renewable assets. With more than highly 70 specialized employees from all parts of the renewables value chain, we have an extensive track record and in-depth experience especially within the offshore wind sector, making PEAK Wind one of the most experienced offshore and onshore wind Asset & Operations Management consultancies globally. Our global reach is reflected in our presence in some of the key offshore wind markets and regions including Denmark, Germany, Spain, the U.S., and Taiwan, where we support and service domestic and foreign developers worldwide.
For further information, please contact:
PEAK Wind
William Lim, Head of Business Development
wli@peak-wind.com
+45 2426 9628