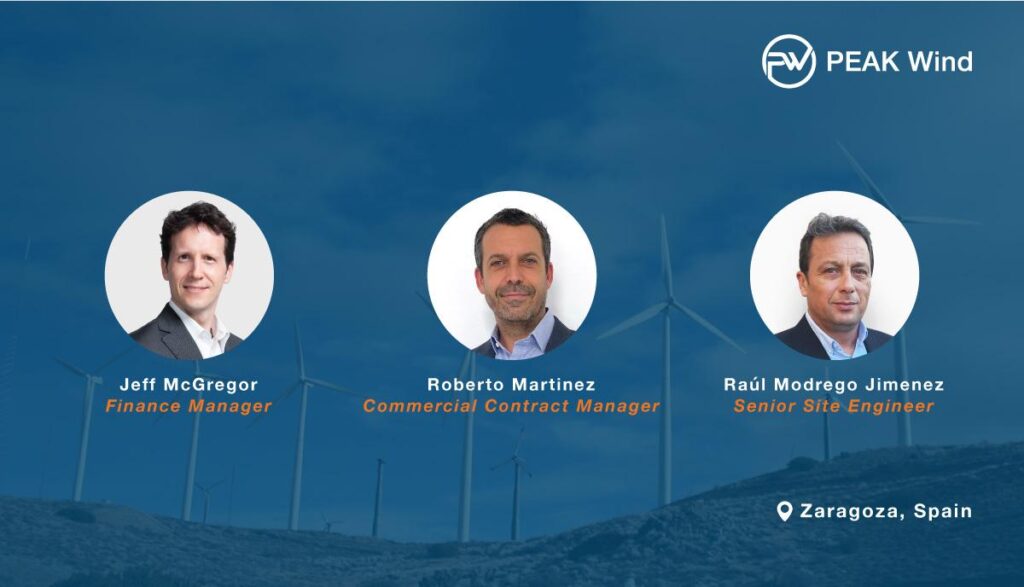 We are proud to announce we have 3 more excellent colleagues: Jeff McGregor as Finance Manager, Roberto Martinez Faure As Commercial Contract Manager, and RAUL MODREGO as Senior Site Engineer for joining our team in Zaragoza, Spain.
Jeff brings broad and extensive experience in finance in various industries, where he designed and implemented cost structure and reporting system, and monitored and analyzed profitability and annual budget for operations. Moving forward, he will manage all financial and accounting aspects and deliver financial transparency to maximize value creation for our projects in Zaragoza.
With more than 15 years in the wind industry, Roberto comes with a wide-ranging experience in operational R&D, warranty and technical across Asia, Europe and North America. He will be instrumental in following up and managing all the contracts and related commercial matters for the projects.
Raúl comes with more than 20 years of experience in the renewable energy sector, managing O&M of wind farms, developing new business areas and projects globally. He brings both an extensive network and knowledge to PEAK Wind Spain, where he will be taking on the critical role as Senior Site Engineer to improve the technical performance of the projects.
Welcome Jeff, Roberto and Raúl!